Application of the storage shed
Application of The Storage Shed
With the classification of daily domestic waste, this policy measure has been implemented more and more widely. Manufacturers of various waste sorting service halls are also emerging. In order to increase their sales, the style and characteristics of intelligent waste sorting kiosks are the most dazzling. What occasions are intelligent domestic waste sorting kiosks suitable for?
Generally, the decoration style of this kind of residential area is relatively high-end and elegant. Intelligent waste classification kiosks are selected for waste classification, which complement the style characteristics of the residential area and make the waste classification more perfect without affecting the beauty of the residential area.
As we all know, the park is a place for people to play. The park environment is good or bad. For the mood of tourists, how many tourists are there? Imagine that if the garbage cans in the park are smelly and mosquitoes are everywhere, the park gives people a very bad feeling. Therefore, intelligent "garbage sorting" kiosks are used to beautify the park environment.
Most children's parks are basically built in the form of castles. Children like to play in the castle. There is an intelligent garbage sorting Pavilion in the castle, which can attract children to properly dispose of garbage without affecting the decoration style of the whole park, and perfectly implement garbage sorting policies and measures.
After waste classification, it can be acquired again to protect our life safety. This social concept is increasingly accepted. In the development of big cities, there are some mandatory requirements for classification, and the corresponding basic education facilities are relatively popular. For example, garbage sorting kiosks, which are common in many communities in China, make garbage cans no longer open, but look more formal and cleaner.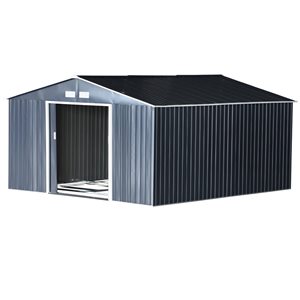 Metal Finish: The application of a zinc-coated finish not only enhances strength and durability but also adds an aesthetic and appealing quality. Premium Steel Construction: The use of thicker galvanized steel ensures stability and durability, making it suitable for diverse seasons and climates. Metal Corner Protectors: Roof corners are safeguarded with corner guards made of
Read More »